Posted On Monday, November 14, 2011 at at 1:12 PM by Naruto
Posted On Saturday, February 12, 2011 at at 7:22 AM by Naruto
---
Factory Outlet Shopping in Bali
Posted: 04 Feb 2011 01:35 AM PST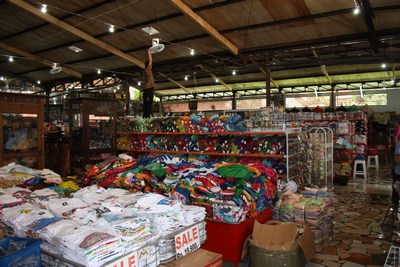 I am lousy at shopping. I hate it and much prefer to avoid it as much as possible. But, there are times when it becomes a necessity. Food shopping takes me less like than Flash Gordon whizzing by and this is always much to the dislike of my wife, Candika.
It is just annoying and when one just doesn't feel like tramping around the various markets in the tourist strip of Bali; searching for that relentless search for a cool T-Shirt or a pair of boardies or even handicrafts, I give up. In the markets the prices always vary from vendor to vendor and it really gets to be a hassle bargaining even though at times it can be enjoyable.
Take heart though because there are several factory outlets along the tourist strip that can accommodate all your shopping needs. These factory outlets sell just about everything you can buy in any of the markets and some of them even sell packaged Balinese delights. The prices, in general, are far cheaper and one can shop at one's leisure without being hassled. Here are a few of them.
Joger: Located on Jalan Raya Tuban not far from the Supernova shopping centre, this place is extremely popular with domestic tourists and at most times crowded. Joger is an amazing place to shop with practically all handicrafts made in Bali on sale at great prices. They have a vast range of T-Shirts and bags.
Geneva: This two-storey complex is located on Jalan Raya Seminyak and set back off the road. The entrance is via a flight of stairs. Geneva has a good selection of knick-knacks and other woodcarvings.
Their clothing selection is extensive and all goods are stacked on shelves for easier access. Geneva's prices are comparable with other factory outlets. Most of the Balinese handicrafts are on sale here including topeng (masks) and lukisan (paintings). They do have a good selection of bedspreads and other home items.
Kampung Bali: Located on Jalan Merta Nadi behind the Bali Bakery in Kuta, this place is one of the better factory outlets around town. The L-shaped building is huge with a vast array of clothing, handicrafts and packaged Bali food for sale. Kampung Bali is the kind of place that affords relaxed shopping at great prices.
Kampung Bali also has a good selection of hand-crafted musical instruments. It's not only that, they also have a great selection of sandals and aromatherapy products as well as shelves and shelves of batik clothing and batik pieces. Their selection of bedcovers is fabulous. Do browse around the food section and buy some of the packaged nuts and krupuk.
Krisna Oleh-Oleh Khas Bali: In my opinion probably the best factory outlet in Bali. Located on the Sunshine Road, Krisna is massive in size and offers everything you will need as far as handicrafts and clothing are concerned.
This complex has an excellent warung just outside the main building serving delicious traditional food and there is even a small playground for the kids. Krisna Oleh-Oleh Khas Bali has a superb array of packaged Balinese delicacies at good prices. Their selection of Balinese handicrafts is the best and the choice of all manner of clothing, outstanding.
One could spend hours just shopping in air-conditioned comfort. There really is no need to tramp around local markets when you can purchase all that you need at Krisna.
Content from Bali Blog


Email delivery powered by Google


Posted On at at 6:23 AM by Naruto
---
top most beautiful places in the world
Posted: 04 Feb 2011 03:27 AM PST
We live in a world blessed with sights that are beautiful beyond words. Every human being probably dreams of visiting at least one of those places in their lifetime. Living in modern cities with high-rise buildings, we tend to miss out on what Mother Nature has to offer as well as some of the most incredible man-made structures built throughout the course of history.
Look at the places below, and you will see beauty that fills the eye and warms the heart. It wouldn't be appropriate or humanly possible to just pick a few places from the huge collection of amazing sights around the world and call them the "best."
They say that "beauty is in the eye of the beholder," and there are perhaps other places that have touched your heart. For this reason, we do not claim the places included in our list are the best, but rather among the vast collection of the most beautiful places of the world.
Skardu Valley – Pakistan
Photo by bogavanterojo

Photo by NotMicroButSoft

Skardu Valley is part of the Baltistan. Baltistan is spread over an area of 26,000 square kilometres – just right below the jagged and glaciated ramparts of the Karakoram. Once part of Laddakh, it was known as Tibet-i-Khurd – Little Tibet. Archaeological exploration has proven that it was encompassed by the Silk Trade Route.
Shangrila – Pakistan
Photo by NotMicroButSoft

Shangrila Resort Skardu, also known as "Heaven on Earth", is nestled amongst some of the world's highest peaks. It encircles the heart shaped "Kachura Lake" and is surrounded by fruit laden orchards and flower filled gardens.
read the rest article s at : http://kicktheworld.blogspot.com/2011/02/top-bautiful-places-in-world.html
Related posts:
10 grandest and most beautiful palaces in the world this is the most beautiful and grandest palaces ever made...
most beutiful picture in the world This is probably the most beautiful places in the world's...
most beautiful under sea are located in indonesia sorry for title, maybe will confuse all of you, just...
Related posts brought to you by Yet Another Related Posts Plugin.
Content from daydaily
To stop receiving these emails, you may unsubscribe now.
Email delivery powered by Google
Google Inc., 20 West Kinzie, Chicago IL USA 60610